#Celebration in Sai Baba Center Tokyo, Japan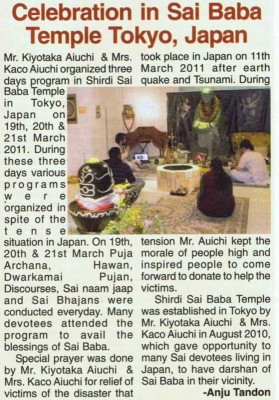 Mr. Kiyotaka Aiuchi & Mrs. Kaco Aiuchi organized three days program in Shirdi Sai Baba Center in Tokyo, Japan on 19th, 20th & 21st March 2011.
During these three days various programs were organized in spite of the tense situation in Japan.
On 19th, 20th & 21st March Puja Archana, Hawan, Dwarkamai Pujan, Discourses, Sai naam jaap and Sai Bhajans were conducted everyday.
Many devotees attended the program to avail the blessings of Sai Baba.
Special prayer was done by Mr. Kiyotaka Aiuchi & Mrs. Kaco Aiuchi for relief of victims of the disaster that took place in Japan on 11th March 2011 after earth quake and Tsunami.
During tension Mr. Aiuchi kept the morale of people high and inspired people to come forward to donate to help the victims.
Shirdi Sai Baba Center was established in Tokyo by Mr. Kiyotaka Aiuchi in August 2010, which gave opportunity to many Sai devotees living in Japan, to have darshan of Sai Baba in their vicinity.
########
+Bongaren & DivineSoul Inc. represent Kiyotaka.Aiuchi & Kaco.Aiuchi
*[Shirdi SaiBaba Tokyo Center, Japan]
> http://shirdisaibaba.jp/
*[The comprehensive portal site of "Spiritual and Mental World and New Age"]
> http://www.divinesoul.eu/
mailto: shirdi"@"bonga.jp
$TEL: 03-6912-6580 (13:30-19:30)